TELL YOUR STORY. TELL IT WELL.
Storytelling is an art. Paint your picture with words.
The digital era has empowered organizations and individuals to publish content with the push of a button. Telling your story has never been this easy and challenging at the same time! The ancient art of storytelling is central to a robust digital marketing strategy, and making meaningful connections with potential clients can be a daunting task!

Whether you need writing services to support your organizational or personal objectives, we have a solution for you. Our team will work alongside you to gain a clear understanding of your audience and goals and create written material that meets your intended purpose.
Content writing for organizations
We believe in telling YOUR story, allowing each brand's personality and values to shine through. Our in-house language practitioner has almost 15 years' experience writing and editing content for a wide range of business sectors.
We assist organizations by crafting clear blog posts, press releases, website copy, marketing video scripts and social media posts, brochures and other marketing collateral that resonate with their intended target audiences.
If you do what you've always done, you'll get what you always gotten.
Content writing for individuals
We're passionate about clear communication in all forms. As part of supporting job seekers, Dezines offers a resume writing service.
Maybe you are new to Canada and need to refresh your resume to meet local expectations. Perhaps writing isn't your 'thing,' and you need help in adapting your resume before submitting it for a job you have your eye on. Getting your resume 'Canada ready' is more intensive than a simple re-edit or adding recent achievements.  The resume writing process is part science and part art, a complex tapestry of skills, achievements and compelling narrative which illustrates outcomes achieved due to your involvement. Having the correct resume format is essential, but don't forget that keywords, tone, flow and substance are equally important.
If it all sounds a bit overwhelming and you're not sure where to start, we're here to help. Dezines offers the following writing services for jobseekers
Canadian Resume Optimization
Let us transform your existing resume into an attention-grabbing document that conveys your strengths, accomplishments and aspirations. We'll put together a well-formatted, professional, editable resume that represents you well.
Cover Letter Writing
While your resume provides a snapshot of key achievements, skills and competencies, a cover letter gives insight into your character and highlights information relevant to the job application. We assist by crafting a compelling cover letter that can serve as a strong foundation and be adapted with minimal effort for different job applications.
LinkedIn Profile Optimization
Recruiters and potential employers often visit the LinkedIn profiles of candidates to cross-reference against resumes, and gain further insight into their ability and achievements. We audit your existing profile, align it with best practice, and ensure that it showcases a compelling narrative, consistent with your resume, that resonates with potential employers.
Improve your online presence
Your website is the centrepiece of your  online presence. Create a memorable and authentic experience that will draw prospective customers in.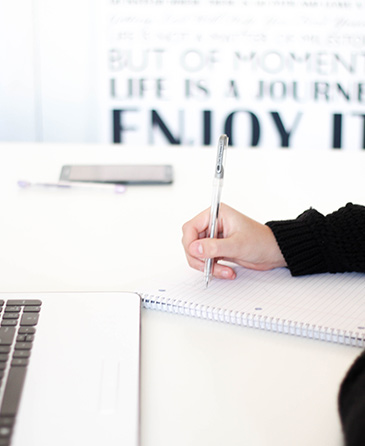 Tell your story, tell it well
We craft clear blogposts, press releases, website copy, marketing video scripts and social media posts that resonate with your intended target audience
Going up to the next level
Take your digital presence to the next level. Trust our team to recommend creative digital solutions that will set you apart from your competitors.