EXECUTE WELL
Creating consistent and creative content to highlight your marketing objectives
Dezines takes care of all aspects of social media management, ensuring that your online content and digital presence work coherently with your other marketing initiatives, bringing you closer to achieving your business objectives. 
We bring your digital strategy to life with a social media calendar that gives voice to your goals, educates your users and sells your services.
It's not just about the posting of your social, we ensure we do our homework, understand the full spectrum and then only we execute. 
Our offering includes:
Strategy & Objectives
Using a comprehensive social media questionnaire, we draw out essential information to create a custom fit social strategy. Based on the questionnaire, we establish your social media objectives.
Social Media Audit
By visiting your existing social media channels and observing content types, frequency, engagement rates and following, we establish a baseline of your current digital presence. Comparing this to best practice and your set social media objectives, we identify where the gaps lay and make recommendations on how those gaps can be closed.
Scheduling Content Posts
Dezines uses a scheduling platform to pre-schedule all posts for the month to the specified social networks. This allows us to focus on the smaller detail whilst ensuring the content is delivered on time. We continuously improve and enhance as the need arises, ensuring your content is relevant, up to date and speaks to your audience.
Management & Growth
Dezines monitors all platforms for comments or engagement opportunities, escalating comments that require attention. Organic follower growth requires engaging content as well as employee mobilization. We guide clients on how to go about mobilizing employees to share content with their trusted networks.

Content Calendar
Dezines creates detailed content calendars, specifying which content will be shared on which date, on which social channel. The content calendar includes writing post text, researching and utilizing relevant hashtags, tagging relevant people and companies, creating branded artwork, and researching and sharing curated/ 3rd party content pertinent to your target market. This calendar is then submitted to you for approval before posting.
Social Channel Setup
If necessary, we set up and/ or optimize social media platforms as determined by the strategy and objectives. We also assist with integrating social platforms with your website, enabling visitors to easily access your social profiles or share blog content from your website on their own social profiles.

Paid advertising
Dezines partners with paid advertising specialists Prebo Digtial for any paid advertising campaigns.
Improve your online presence
Your website is the centrepiece of your  online presence. Create a memorable and authentic experience that will draw prospective customers in.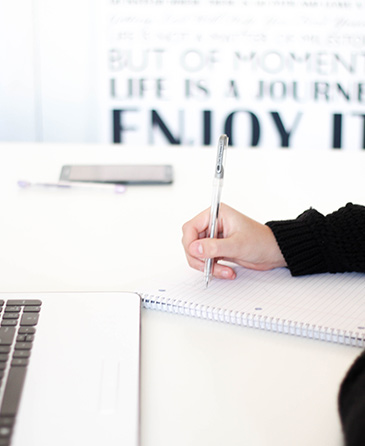 Tell your story, tell it well
We craft clear blogposts, press releases, website copy, marketing video scripts and social media posts that resonate with your intended target audience
Going up to the next level
Take your digital presence to the next level. Trust our team to recommend creative digital solutions that will set you apart from your competitors.